FO and movie update
I am happy to report an FO - and it was a gift, so I have never even mentioned it before, so here's the surprise!
Project Name:
Scandinavian Jacket
Pattern Source:
Knits for Babies and Toddlers by Fiona McTague
Yarn:
Knitpicks Merino Style
Yarn Source:
Knitpicks
Date Started:
11/16/08
Date Completed:
2/20/09
Comments:
As I said, this was a gift, so I kept it under wraps while I was working on it. I really enjoyed it, though. Believe it or not, the pattern is written to be knit back and forth instead of in the round, which I had never done with fair isle before. So, I tried it and it wasn't bad. I would never do an adult sweater that way, but a baby sweater was ok and I was glad not to have to do steeks. It's big, but I wanted the baby to be able to wear it next winter, when he probably will be out and about a lot more. The mommy is a knitting friend, so she was very appreciative. I really love the yarn, Merino Style, but I'm sure it would pill like crazy on something that gets a lot of wear, because it's so soft. Such a nice, pretty, soft yarn, though.
I'm less happy to report that the Koolhaas hat I showed you last time is now suitable for wear with this sweater. Yes, my brother threw it in the washing machine and he shrunk it down nice and small - you know how great Malabrigo felts. I should have warned him, but I hardly ever wash my hats, so I didn't really think about it. Plus, he felted a sweater I knit for him once, so I thought he was clued into the whole washing machine and handknits thing. I think this is a pattern that's cursed for me, so I don't know if I'll be knitting him yet ANOTHER one any time soon.
I've also been working on a pair of socks for my nephew, Michael. It was a birthday gift for his 13th birthday and I wasn't sure how much he'd like them, but he actually said, "they're awesome."
I only finished one before his birthday, but he tried it on and it fit perfectly, so now I just need to finish the mate. The yarn is the Opal Harry Potter yarn in the Hedwig colorway. Michael LOVES Harry Potter and especially Hedwig. I knit the Quidditch socks last year in Slytherin colors just because he likes gray and green, so I thought this yarn was perfect for him. I'm using the Quidditch pattern again for this pair because I know it fit him well.
Ok, I've got a lot of movies to blog about because I was trying to get a bunch in before the Oscars. Here's just a start:
I wasn't crazy about this one. It was ok, but it's one of those movies where the characters all treat each other like crap and I just don't enjoy watching that. It stars Anne Hathaway as Kym, an alcoholic/drug addict and Rosemarie DeWitt as her sister, the Rachel who is getting married. It's sort of a slice of life movie, showing this family coming together for Rachel's wedding and all of the old hurts and disappointments surface. The acting was great all around and it felt very real, but like I said, just not fun. The film has a real documentary feel because there really isn't a big plot and structure. Stuff just happens, just like in life. It's filmed pretty much entirely with a handheld camera, which adds to the cinema verite feel, but it was way too shaky for one of the friends I saw it with.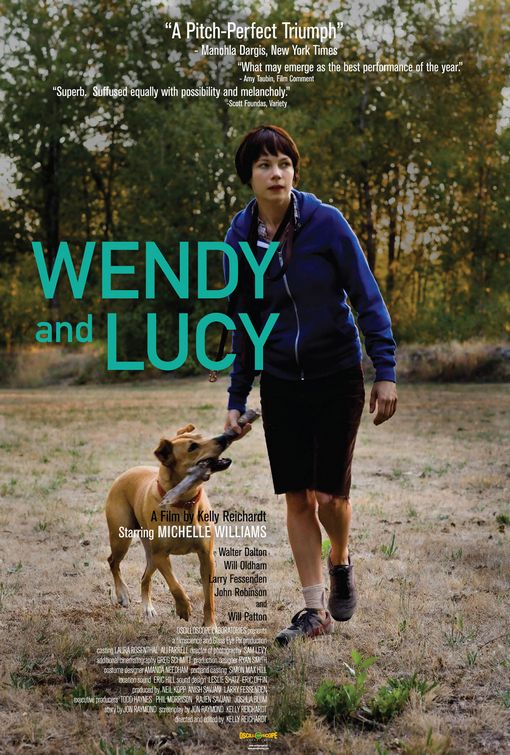 This is another slice of life movie. I saw it the same weekend with Rachel and they went well together. Michelle Williams stars as Wendy and Lucy is her dog, her only companion in life. The film opens with Wendy on the road with Lucy. They're pretty much living in the car and then things go badly. Wendy is down on her luck and lonely and lives in a totally different world than Rachel and Kym, but they both show the lives of women in the our country today and neither one is a happy, joyful story. Williams filmed this movie right after she and Heath Ledger broke up and she made good use of whatever sadness and loneliness she may have been feeling at the time. Another great performance, but you need to be in the right mood to watch the film.
OK, long post. More movies next time.
Labels: Hedwig Socks, Movies, Scandinavian Jacket