Music of the Night
No knitting yesterday, as I went to this: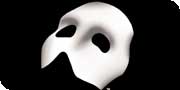 It's my favorite musical of all time. I bought tickets for my niece for Christmas last year. July 22 seemed so far away back then - time flies!
It was a great show. The actor playing The Phantom was really good and I started bawling at the end.