But Sometimes It Doesn't
I know I've been whining a lot lately about how fast time flies and I want things to slow down, but this week, I'm so glad it's over. It's been a tough week. In the last week the following has happened:
* The "check engine" light on my car came on and it started overheating.
* As I was trying to relax and not worry so much about my car so I could get to sleep, all of a sudden a bat was flying around my living room at breakneck speed.
* I had to take a day off of work during a very busy week to try to figure out what was wrong with my car. Turns out anti-freeze is leaking into the cylinders, so I probably need a new engine. Happily, I don't need to just get a whole new car. I just love my car and didn't want to go through that whole thing again.
* A friend chastised me for spending too much money on yarn. I know I spend too much money on yarn, but I don't really need other people telling me that. I over-reacted, for sure, but it really hurt my feelings.
* Since my car doesn't work at this point, I had to borrow Bill's car. The air conditioning doesn't work and I had to drive all the way to Northern Minnesota and back. Happily it's not as hot as it has been, so the ride up there was ok. The ride back in the afternoon heat wasn't very comfortable, though.
* I had a trial. As the Guardian ad Litem I'm in an odd position. On the one hand I'm representing the best interests of the child, so I can cross-examine witnesses, call my own witnesses and make arguments to the judge. On the other hand, the work I've done and my recommendations are evidence in the case, so I also have to give testimony and get cross-examined. It's a hell of a lot better being the person asking the questions instead of being the person answering the questions. I got trashed by an attorney in a situation where he really didn't need to be so aggressive. It came out of the blue for me and I was unprepared for it.
So, it's been a bad week. I'm ready to start the weekend and hope it's all going to improve significantly. On the bright side, I did get to go to knitting group on Wednesday night for the first time in a few weeks. And Kate joined us, which was super fun. She also brought me two lovely sock books that I've admired and paged through many times but had not owned. But now I do! Yay! Thanks
Kate
and please, please, please join us again!
I also got some good news this week - My sister Kerry is having a baby! I'm so excited to be an auntie again and I'm excited for her and her man. I have so many ideas of things to knit for the baby! I haven't had a baby to knit for for a while, and I've missed the fun of those little cute items.
I also got some yarn I had asked one of my knitting pals to pick up for me when she was placing an order at Knit Picks a while ago. I wanted to try the new merino/silk blend they have, Gloss:
This is not a good picture. I just couldn't capture the true color of this yarn with my camera. It's called Concord Grape and it really is a lovely grape color. It seems like a lovely soft yarn to knit with, and at $4 a skein, the price can't be beat.
So, the week wasn't all bad. I'm glad I put it into better perspective! I did get a little knitting done, but half-finished socks where you've already seen the first one are redundant and boring, so I'm not going to post that. I did finish my neutrals mitred square, but I haven't pinned it out and blocked it yet. I haven't blocked the purple one from last month either, because it's been too hot to be working with the big steamer, but maybe I'll block them both this weekend and post a picture of the neutral square next time.
I'll also mention a couple of books I finished. I mentioned before that I was reading "Purgatory Ridge" by William Kent Krueger. I really liked it and now I'm going to go back and read his earlier books in the series. He's a local writer. This series is set in Northern Minnesota, on the North Short of Lake Superior. The main character is an ex-sheriff who is part Ojibwe. I really liked the characters and the plot - I didn't figure out the mystery aspect before the author revealed it. It was also fairly well written, for a genre book.
I also finished this book: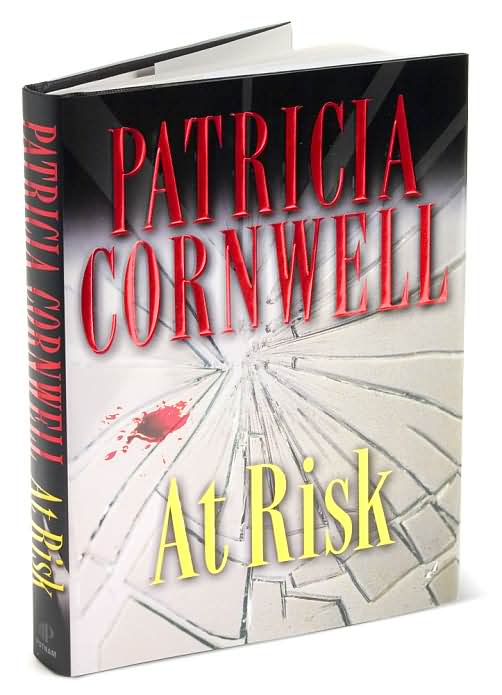 I am a Cornwell fan and have read all of the Kay Scarpetta mysteries. However, I think that series has really gone downhill in the last few years. This not a Scarpetta mystery, but it's not really an improvement over the recent entries in that series either. The main character is a detective with the Massachusetts State Police. The story is kind of split between an old murder in Knoxville, TN that the detective is asked by the D.A. to re-open using their new high tech crime lab and the rape and attempted murder of the D.A. Of course the two stories are related to each other and tie together in the end. This is a very light book - it's really short and could easily be read in an afternoon by most people. It's pretty light on details and plot - things just seem to happen for no good reason. At the end, I was afraid I had somehow skipped part of it because it seemed like I was missing some plot and character development and it was done so quickly, but after looking back through it, no, that's all there is. I cannot recommend this book at all - save your time and money and check out one of the first Scarpetta books if you haven't read them.